September 2, 2016
Dreamforce, Salesforce Training
Salesforce, the beast that we thought that we tamed but really didn't. As much as, we would like to tell the world that we are Salesforce experts, there always remains that self-doubt.
Salesforce is that friend whom you love yet, resent. It has been your savior, but you've had your hard times with it. It remains your faithful ol' friend.
We have covered host of topics related to Salesforce like Salesforce AppExchange, Salesforce Training, Salesforce Onboarding, Trailblazers Guide to Dreamforce 2017. But, today, we thought of doing something lighthearted. So, without any further delay, here are 10 Salesforce memes that'll make you chuckle.
1. The moment of glory!
On top of the world!
2. The Big question: What do you do?
You know, what we are talking about.

3. That Sarcasm!
You know that you have a tendency to blame undone jobs on Salesforce. But like a buddy who has your back, Salesforce never complains. Ever!
4. Psst… It is my birthday!
We all have our perfect birthday planned in our head. But too bad, it never goes the way we want it.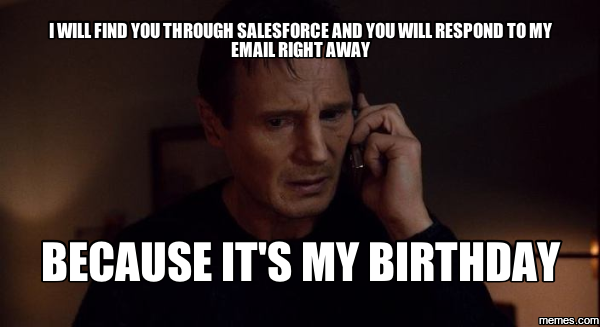 6. The pickup line
Like someone in your workplace? Then don't think twice, try this pickup line.
7. When all things go south!
The dumbfounded feeling when you have absolutely no clue of what is happening in your Salesforce.
8. Features galore!
Oh, Salesforce Lightning. Oh Einstein. Oh another super awesome feature that I don't need. How cool!
9. Dreamforce is coming!
You think Dreamforce is boring? Think again!
P.S: There are plenty nerdy events too!
10. Too much coffee… Too much Salesforce
You know that you've been there, done that. *wink*

11. May the SalesFORCE be with you!
Whatever said and done, Salesforce is awesome!
So smile, feel good about yourself and then go Sassy!!
Read Also: 10 Marc Benioff Quotes That Will Motivate You To Achieve Greatness
---
Enough fun, let's talk business.
Are you looking for a solution to accelerate your Salesforce Adoption and streamline your Salesforce Training & Support? –> Try Whatfix.
Whatfix is a performance support platform that provides interactive guidance on Salesforce via its nifty real-time interactive walkthroughs. The walkthroughs will virtually handhold your employees on Salesforce, helping them 'learn by doing' and get a 24/7 virtual support. Interested? Get a free demo of Whatfix, right away!
Gokul is the 1st Marketer of Whatfix and has written over 100 articles for Whatfix Academy since its inception.

There was a time when he used to be the all-in-all for Whatfix's Content Strategy, but now he has moved to a newer challenge expanding Whatfix's footprint with Events, Field, and Growth Marketing!

Have anything to say to him? Tweet out to him. He enjoys constructive criticism.
Latest posts by Gokul Suresh (see all)